ISSPRO EV2 COMMON RAIL
FUEL PRESSURE GAUGE
0 - 30000 PSI R13288
SPECIFICATIONS
* DIAMETER: 2 1/16" or 52mm
* PRESSURE RANGE: 0 - 30,000 PSI
* BEZEL COLOR: Chrome
* FACE COLOR: White (numbers glow blue at night)
* POINTER COLOR: Blue (glows blue at night)
* SENDING UNIT: Connects to factory sensor
* CONNECTION: Quick connect plug in
* LIGHTING: 12 volt LED (blue at night)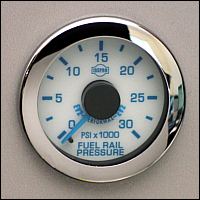 Monitoring the fuel pressure on your common rail Cummins and Duramax diesel is critical in maintaining peak performance and power. This is especially critical in performance street and modified diesels. Having an ISSPRO EV2 common rail fuel pressure gauge, allows you to diagnose fuel system problems before they can cause harm to your expensive CP3 pump, injectors or fuel system. The real benefit of a CR fuel pressure gauge is the ability to confirm if you have a leaking injector.
The Enhanced Visibility 2 (EV2) line of gauges by ISSPRO has set new standards for ease of viewing. What separates these gauges from the rest is the dished dial face and convex glass lens. The inside of the glass lens has an antifog coating which increases the readability of the gauge, especially at night. Even the case was designed to enhance night time visibility. The EV2 series are lit by long life LEDs (light emitting diodes).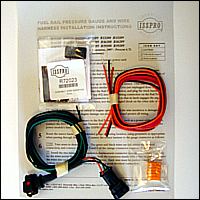 Installing a fuel pressure gauge on a common rail is actually easier than a mechanical gauge installation. You disconnect the fuel rail sensor connector and connect the ISSPRO harness connector. It's that easy! A true plug and play. Of course, you have to mount the gauge and hook up wiring for the lighting .
Isspro has been a leader in diesel engine management for over 60 years. Don't trust your expensive diesel to cheap unreliable gauges. Keep an eye on your fuel pressure with a quality ISSPRO R13288 fuel pressure gauge from Tork Teknology.
The ISSPRO R13288 CR fuel pressure gauge will fit the following trucks:
* 2003 to 2007 Cummins CR
* 2001 to 2004 Duramax LB7
* 2004 to 2006 Duramax LLY
The ISSPRO R13288 ships in 4 days.