Cummins 12 Valve - Valve Spring Compressor - PN CVSC020
Cummins 12 Valve - Valve Spring Compressor - PN CVSC020
Product Description
NOW YOU CAN COMPRESS BOTH VALVE SPRINGS
ON YOUR CUMMINS 12 VALVE
AT THE SAME TIME
The first ever valve spring compressor designed for the Cummins 12 valve.
The wait is over. Tork Tool has succesfully designed the first tool to compress the valve springs on your Cummins 12V, at the same time!
How would you like to replace your valve springs on your Cummins 12V in half the time? I know I would. Tork Teknology is constantly looking for new ways to get the job done faster, cheaper or better. The Tork Tool CVSC020 sure qualifies as faster and quicker.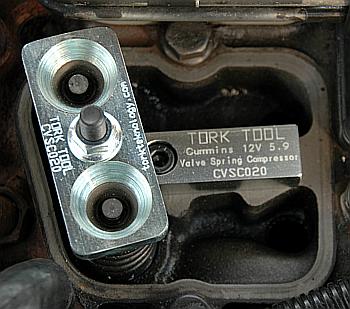 As you performance guys know, the only way to compress the Cummins 5.9 valve springs is to use a Lisle or KD tool. They are fine tools but require twice the work because you have to do one valve at a time. The problem gets worse when you tackle number 5 and 6 cylinders. The limited room under the cowl makes it difficult to use these tools in this confined space. The CVSC020 is only one inch taller than the valve springs, which gives you more room to work, on the back two cylinders. And you can replace your Cummins performance valve springs in half the time!
The tool may look simple but it's a heavy duty, highly engineered tool. The most difficult part of the design process was getting the locations correct and provide clearance for the valve springs. I have to thank my son Curtis, who spent several hours working out the trig formulas.
The real beauty of this tool is the tapered cones on the top plate. Installation of the keepers is super easy, even on #5 and #6 cylinders. You simply adjust the height of the plate, place a keeper on the ramp, and slide the keeper onto the valve stem. IT DOESN'T GET ANY EASIER THAN THAT!!
This is what you get in the CVSC020 kit. One machined bridge and top plate, mounting hardware and a 6mm Allen wrench along with complete instructions. The tool will pay for itself in time savings alone!
ORDER TODAY
Product Reviews
Write Review
5 Star Rating

Posted by Past Reviews on May 11th 2016

This precision crafted tool made the valve spring replacement painless. 

Posted by Michael P. on 30th Oct 2014

A tool machined for a specific job priced just slightly more than a "universal tool". Do not waste your money going with the "fits most tool". The precision machined tool from Tork technologies is so good you will want to do valve spring replacements for your friends just so you can show it off. Fantastic product, thanks Tork Tech!!!





What You Need. Period, forget trying anything else for Cummins 12v 

Posted by Blair Sangster, NFLD Canada on 25th Aug 2013

I'm a DIY guy who hates to admit defeat... And I was beaten till I recieved my Tork Tek gizmo. It did the spring change in 20mins, where my high priced alternate failed doing one spring safely. Great tool, good engineering and real fair price for the quality of the tool.



I support American made products. 

Posted by Tom at Sullivan Racing on 23rd May 2012

Thanks for the fast shipping. US based company! US made product! Will return!!!



Very Fast Shipping! 

Posted by Zack Knott on 24th Mar 2012

Just wanted to thank you guys for the great products and lightning fast shipping. Always smooth business dealing with you guys.



Great tools and Beer Nuts! 

Posted by Sean on 15th Feb 2012

More beer nuts! You guys kick ass and your products are phenomenal!



innovative and good price 

Posted by Logan Lemmon on 29th Dec 2011

this tool is amazing in every way. it saves you so much time by compressing both springs at the same time. this tool works flawlessly and such a good price. very innovative tool thank you..



High quality and a fair price. 

Posted by NTH Montana on 15th Dec 2011

The Tork Tool injection pump gear r&r tool and 12 valve Cummins valve spring tools are time and money saving alternatives to paying a shop or getting traditional tools to do the job of pump timing or valve spring replacement. I also have the injector removal tools and all are of excellent quality, simple to use, and actually do the job intended. Would like to see Tork Tools come up with a Cummins p pump timing kit - I have everything but talk to many who would like it...
Thank you for developing economic tools for the the average man to afford and the discriminating man to appreciate!




Faultless design! Works better than others. 

Posted by Dana James on 19th Sep 2011

I recently bought your 12 valve valve spring tool. Wanted to let you know what an effective and oh so simple tool to use. I was worried because recently I have bought other tools that I thought were going to help out on my project. They all either broke or didn't work they way they were advertised. Yours didn't break and it worked great. Especially since I've never been into a head this far and I was pulling all the valves to replace the seals while I had the head off. Keep thinking up this stuff. Not often these days we get an engineer to come up with something that's actually useful. Thanks again for the great product!



best tool on the market 

Posted by Unknown on 9th Aug 2011

i bought a kd tool and attempted to swap springs and said the heck with that tool and ordered this one.. soo much easier to use and it even comes with step by step instructions.. great job guys it realy is a very nice piece and easy to use.



Excellent Must Have Tool 

Posted by Nicholas (NickTF on Comp Diesel) on 27th Jul 2011

I broke my KD Tools compressor and instead of spending the ridiculous $45 or so it does not warrant I figured I would wait and order this tool. I couldn't be happier I waited given this tool destroyes the KD piece in ease of use and quickness. I would give it a 6/5 of it was an option quite honestly. I used this to change valve seals under my beehive valve springs. Extremely highly recommended and kudos for Tork Tek for solving a problem with a simple solution!



BEST DARN SPRING COMPRESSOR FOR THE 12V - PERIOD! 

Posted by Russ @ Farm Boys Diesel on 31st May 2011

You guys sure make the difficult very easy. Your tools work every single time and don't cost a lot. When are you going to make an injector remover for the CR?

Find Similar Products by Category