Cummins 12V - Haisley Machine - Valve Spring Compressor - CVSC030
Cummins 12V - Haisley Machine - Valve Spring Compressor - CVSC030
Product Description
TORK TOOLS-HAISLEY MACHINE
Valve Spring Compressor Tool for the Cummins® Diesel 12V.
Designed for the Haisley Titanium Retainers
and competition valve springs.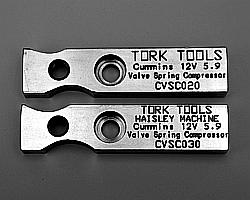 After we released the CVSC020, a freind of mine, Glenn Rotman of Engineered Diesel called and said the tool didn't work with Cummins® 12 valve competition springs. Glenn said the bridge didn't fit between the valve springs. As you can imagine, I was at his shop the same day. He was right! The Cummins® 12V diesel competition springs are 1.438 in diameter, which is .100 larger in diameter than a stock valve spring. The bridge had be be revised for Cummins® 12V competition springs. You can see from the image, the additional clearance machined into the CVSC030 bridge for Cummins® 12V diesel comp valve springs.
About the same time, we received permission from Van and Patty Haisley of Haisley Machine to make a Cummins® 12V spring compressor for their titanium retainer. Their retainer has solved the problem of the keepers pulling out of the retainer and reducing mass for ultimate performance in Cummins®12 valve competition engines.
In addition, several guys at the diesel shows asked if we could make the CVSC030 compressor plate out of aluminum instead of steel. Their magnetic pencils would stick to the steel plate and made it more difficult changing the springs on #5 and #6 cylinders. We always listen to the guys that use our products. Thanks for the suggestions! The compressor plate is now made from aluminum and hard coat anodized.
The CVSC030 valve spring compressor tool is designed to fit Cummins® 12 valve diesel competition valve springs AND match up perfectly with the Haisley titanium retainer. The kit includes the bridge that fits Cummins®comp springs, fasteners, 6mm Allen wrench and a black anodized aluminum compressor plate. Detailed instructions are included.
ORDER TODAY
Warranty Information
All Tork Tek and Tork Tools products carry a 45 day money back guarantee.
Product Reviews
Write Review
5 Star Rating

Posted by Past Reviews on May 11th 2016

The best way to change 12v valve springs! 

Posted by Derek on 24th Apr 2012

I've used other tools in the past to change valve springs but most struggle with the higher forces of performance springs and start to bend in unhelpful ways. This tool did the job with ease, it was able to compress both valve springs with minimal effort, even the aftermarket springs. The quality of construction is great, the kit comes with everything you need to use the tool, and the aluminum plate was nice to keep the magnet from sticking. 

As always great customer service and fast shipping from Tork Tek
Find Similar Products by Category